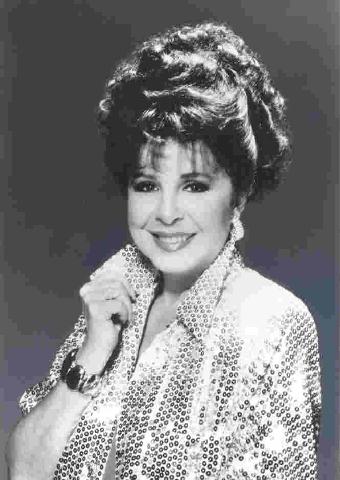 Eydie Gorme was America's 1960s singing sweetheart, one of the most famous singers of the era. Although the world knew her
as Eydie Gorme, she was born as Edith Gormezano in the Bronx. Her parents, Sephardic Jews from Turkey and Sicily, raised their daughter bilingual, speaking Spanish and English in the home. After graduating from high school, Gorme worked as a translator for the United Nations and took night classes at the City College of New York.
Gorme may have worked in translating, but her dreams lay in show business. She sang and recorded for a few years until 1953, when she caught her big break: auditioning for what was then called The Steve Allen Show. She was hired for a two-week run, but ended up staying on for years as the program evolved into The Tonight Show. While performing on the show, she met fellow Jewish singer Steve Lawrence. The two got married in 1957.
Their marriage marked the beginning of an illustrious career as "Steve and Eydie," a husband-
wife singing duo. In 1958, they briefly starred in
The Steve Lawrence and Eydie Gorme Show
before
Lawrence
was drafted into the military. Gorme still performed while her husband was in the Army, but it no easy feat: a new mother, she was forced to bring her young son along to gigs.
After Lawrence was discharged, the couple was reunited as Steve and Eydie. Although they were on the music scene when rock and roll started to become popular, they only performed classics. The two won a Grammy in 1960 for Best Performance by a Vocal Group for their album We Got Us. Their biggest hit together, "I Want to Stay Here," reached #28 on the charts in 1963. Together, Steve and Eydie starred in the mildly successful 1968 Broadway musical Golden Rainbow. In 1975, the couple received two Emmy Awards for Our Love is Here to Stay, a television special celebrating the Gershwin brothers. Three years later, they were awarded seven Emmys for Steve and Eydie Celebrate Irving Berlin. They won a Las Vegas Entertainment Award for Musical Variety Act of the Year four times, and were given a lifetime achievement award from the Songwriters Hall of Fame. In 1995, they were honored with an Ella Lifetime Achievement Award from the Society of Singers.
Although Steve and Eydie were popular as a duo, Gorme was a successful singer in her own right. Her highest-hitting single, "Blame It on the Bossa Nova" (1963), sold over 1 million copies and was certified Gold. Dozens of her other songs climbed the charts, selling millions of singles and albums in total. In 1967, Gorme won a Grammy Award for Best Female Vocal Performance for "If He Walked into My Life" from the Broadway play Mame.
Gorme also achieved fame in the world of Latin music, hearkening to her Sephardic roots. In Spanish-speaking countries, Gorme is best known for her 1964 song "Amor," a duet with the Mexican band Trio Los Panchos. She went on to release several top-selling Spanish language albums; two of them, La Gorme (1976) and Muy Amigos (1977), were nominated for Grammy Awards.
Gorme passed away on August 10, 2013, with her husband and son by her bedside. She was a Jewish woman with pizzazz, sparkling in the world of show business and distinguishing herself from every other singer.
I dub Eydie Gorme into the Shining Stars of Davida - strong women and men who make us feminists proud.